Lower costs spur rise in use; regular updates important
By NICK IYER
Increasing numbers of small businesses are using once-costly video production as a relatively inexpensive way of extending their marketing reach.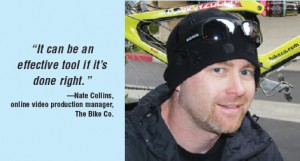 "It can be an effective tool if it's done right," said Nate Collins, who oversees online video production for The Bike Co. The Lake Forest-based business has been posting videos on YouTube since 2010 as a "way to interact with our client base visually," Collins said.
Most of the bicycle retailer's YouTube videos feature footage of cyclists shot with a helmet-mounted camera. Others are clips on various products and how-to guides.
"It's interesting; we will see a handful of inquiries from people that we would never have gotten in touch with," Collins said. "We've been able to spread our customer base, and it allows us to stay one step ahead of everyone else."
Training Video
OC Kickboxing & Mixed Martial Arts posted its first YouTube video in 2007, showing two martial-arts fighters doing training drills.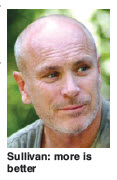 "The way I think of it, in the online world, the more content the better," said Daniel Sullivan, president of the Irvine-based business. "You have to continually have new content. The more videos you have, it will keep people coming back."
Posting a video online gives customers a "peek behind the curtain," said Steve Averill, principal at Irvine-based online marketing firm Averill Media LLC. "The catch words are transparency and authenticity," Averill said.
Web video stimulates about half of all consumer activity on the Internet and comprises half of the data traffic on mobile devices, according to recent industry estimates. Mobile usage is surging and is expected to comprise two-thirds of the world's mobile traffic data by 2016.
Reluctance
A February 2011 survey by small-business researcher Bredin Business Information Inc. found 54% of respondents used online videos to market their products or services, up from 20% in 2010.
There is some lingering reluctance in some quarters, stemming from "a lack of knowledge about how easy it is to do, how inexpensive it can be and how effective it can be," said John Pietro, a management counselor at the nonprofit business mentoring organization SCORE in Santa Ana. "This is about connecting human to human," Pietro said. "The first word in social media is social. People like to gather information in a nonthreatening way, and that's what videos do."
Hydraflow – a Fullerton-based company offering fluid-flow engineering products debuted its new corporate video at its 50th anniversary celebration last year. "We got amazing feedback," co-owner Sasha Ayloush said. "Some of us were crying when we saw the video. We've had phone calls and e-mails from people that were so amazed by what we put together."
Company Culture
The video – posted on the company's website – is intended to convey the company's "familial" corporate culture and competitive advantage to engineers, buyers, employees and vendors. Ayloush said the online video helped job candidates come in more prepared for interviews. "We're so pleasantly surprised that they know so much more about our company [after viewing the video]," she said.
Other benefits include improved search engine optimization of companies' Internet content. "[Online videos] stand a much better chance than your text pages of being shown on the first results page," according to Cambridge, Mass.-based Forrester Research Inc.
Posting Regularly
Posting new videos regularly helps such content show up in online searches. "Google wants fresh content," Averill noted.
Still, some caution that online video is no instant road to business riches, despite its growing popularity and adoption. Online video can be a great tool to strengthen search engine visibility and tell a story but there's no guarantee it will lead to spreading a business' message to millions overnight. You can use it to make your mark and to be found on the Internet, but don't expect your video to go viral.
To get started with web video marketing CLICK HERE.